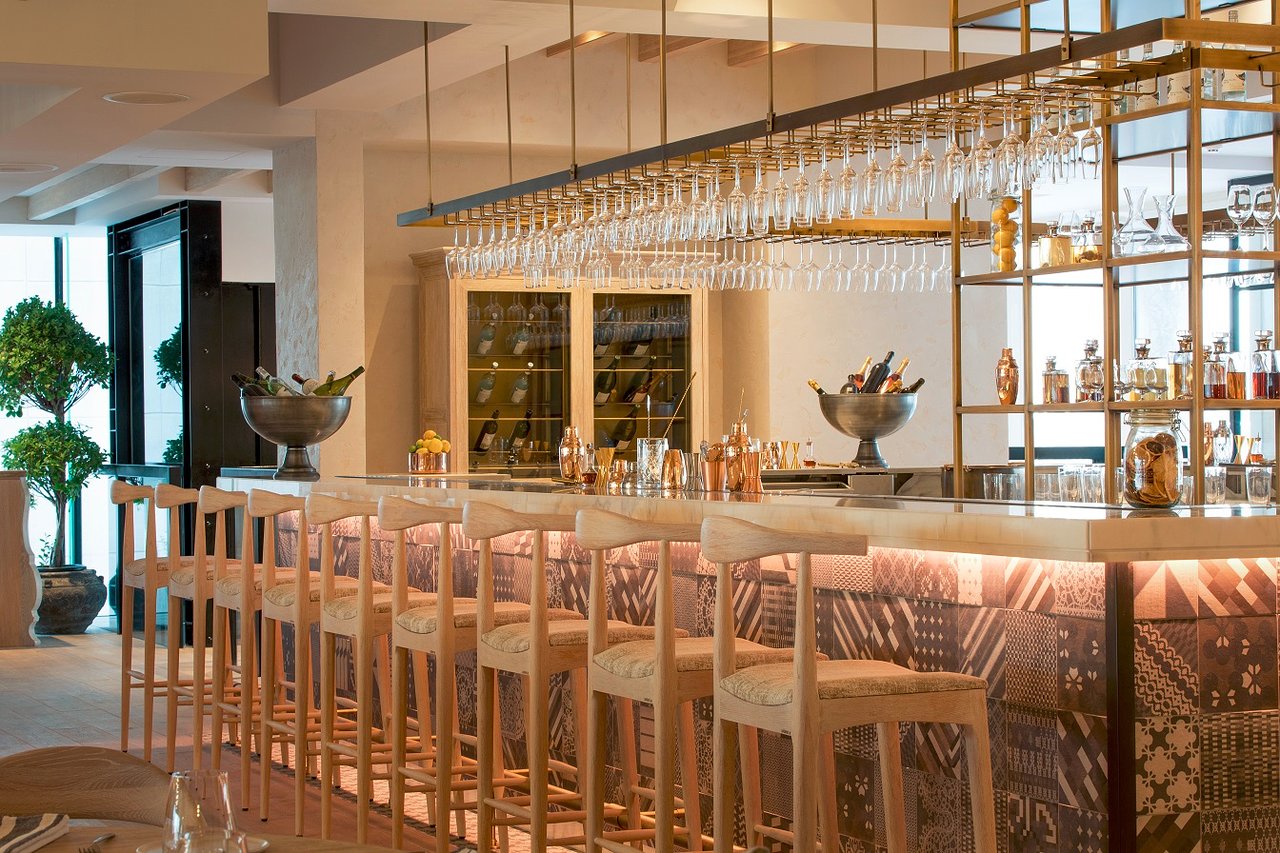 Bleu Blanc Oysters & Grill
Dubai, United Arab Emirates
Designers: WA International
Designed by WA International, Bleu Blanc is a French farmhouse inspired restaurant in the Renaissance Downtown Hotel in Business Bay. Khansaheb Interiors did the fitout and Emirates Innovation Engineering Consultants were in charge of the project management.
Large blue double doors lead you into a whitewashed interior with timber finishes on the furniture and ceiling. Floor-to-ceiling windows, mosaic tiling, rustic wooden floors and a wood-fired grill, which acts as a showpiece, fill the elegant space, that spills onto a terrace overlooking the Dubai Canal.
Low lighting gives the restaurant a chic yet warm feel, with candlelit tables, comfy chairs and cushions in shades of blue and white, matching the furnishings to the name. A clever curtain of wooden spoons segregates the private dining area, and an open plan kitchen allows diners to watch the chefs at work.
neoalpha global is owned by Alessandro Ayanian, Creative Designer and Managing Director, who has over 20 years of experience in professional lighting having worked on most project types all around the world from large hotel resorts and masterplans to bars, restaurants, government buildings, corporate offices, stadiums, and private residences.
What we do is closely related to our philosophy about the impact of light on the human experience. Our lighting design solutions are premised on an understanding of how light can change the human psyche in terms of wellness which means that it requires exceptional creativity to design and turn sophisticated design ideas into reality.
At neoalpha we believe in 5 core values: Creativity, Innovation, Quality, Passion and Delivery. Our passion to strive above and beyond is our way of life. Specific deliverables vary from project to project, but our design process is often similar. Though there is not a single or finite path to deliver our design, each process does follow a consistent set of core ideas.