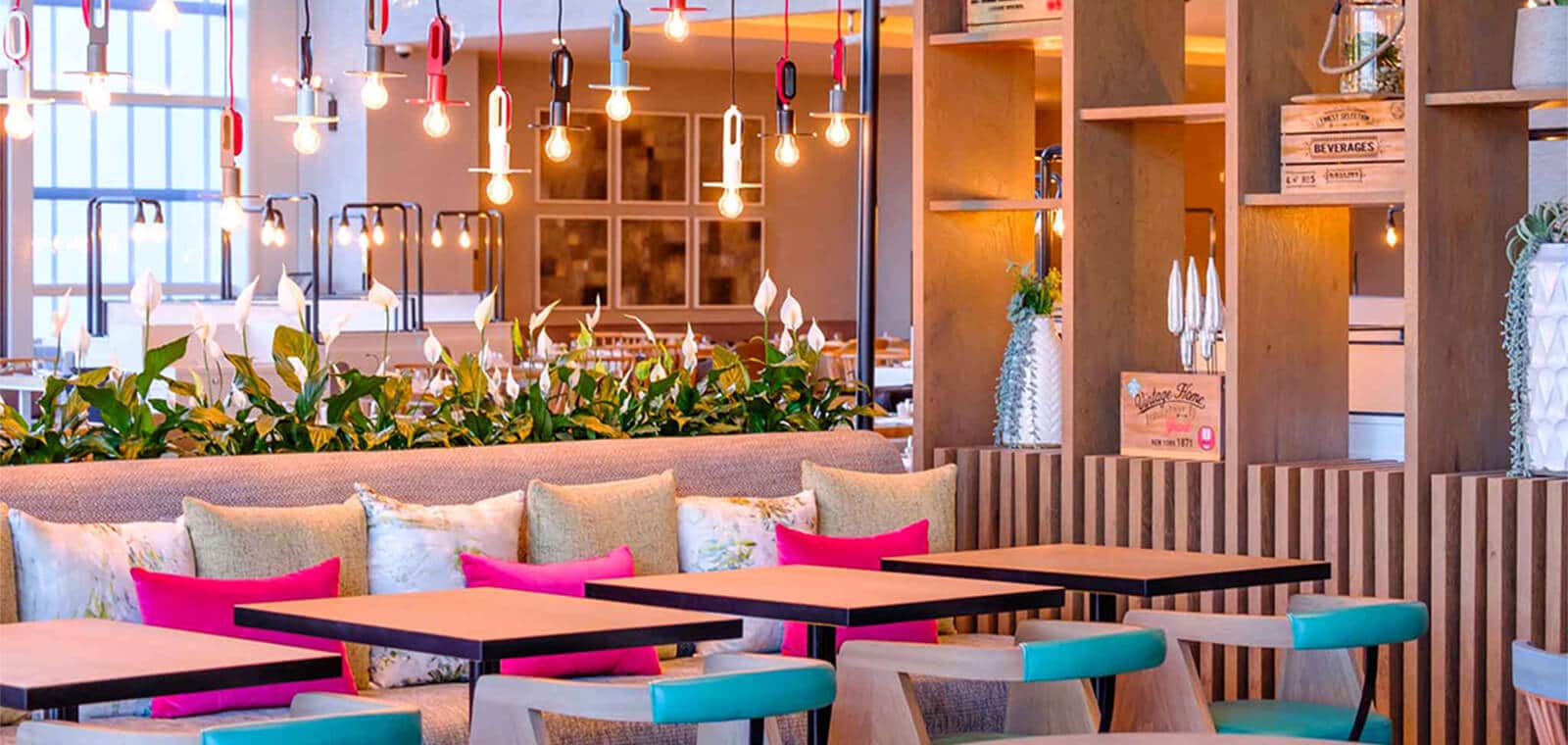 Dubai, United Arab Emirates
Clients: Zeste
Designers: LW Designers
Project Managers: ALEC
Contractors: Depa Group
Photographers: Natelee Cocks Photography
Designed by LW Design, Zeste Café, Dubai is located at Holiday Inn. The fitout was executed by Depa Group and the project management was by ALEC.
This place offered the designers an opportunity to create a playful selection by selecting varied pieces of furniture and fixtures, making each experience a different one. And the variety spans across the dining as well as the lounge seating and is seen dotted around the space.
A mix of eclectic lighting and accessories add another layer of casual yet relatable design. Lifestyle collectables adorn the full height walls to create a more intimate and inviting atmosphere. As full-height gypsum partitions were not an option, a combination of rope screens and Semi-Open Timber screens, filled with eclectic accessories and plants, were used as dividers between spaces and to create privacy between the different users.
Additional planter boxes with pendants create yet another visual separation, while still giving you a glimpse of the activity on the other side. The neutral finishes of the surroundings was the inspiration for the entire design palette. The designers chose natural materials, like wood inlaid in concrete on the floor and rope screens as the base undertones of the space adding to the relaxed and casual vibe.
A splash of colour was added to the feature timber finish along the bar front and in the playful pieces of furniture and fixtures.
neoalpha global is owned by Alessandro Ayanian, Creative Designer and Managing Director, who has over 20 years of experience in professional lighting having worked on most project types all around the world from large hotel resorts and masterplans to bars, restaurants, government buildings, corporate offices, stadiums, and private residences.
What we do is closely related to our philosophy about the impact of light on the human experience. Our lighting design solutions are premised on an understanding of how light can change the human psyche in terms of wellness which means that it requires exceptional creativity to design and turn sophisticated design ideas into reality.
At neoalpha we believe in 5 core values: Creativity, Innovation, Quality, Passion and Delivery. Our passion to strive above and beyond is our way of life. Specific deliverables vary from project to project, but our design process is often similar. Though there is not a single or finite path to deliver our design, each process does follow a consistent set of core ideas.