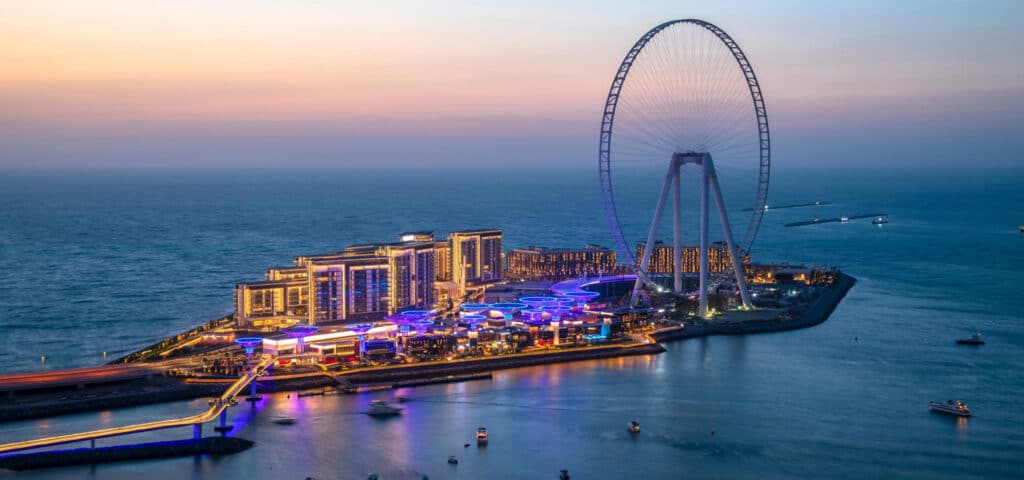 Bluewaters is a glitzing island destination featuring exclusive residential, retails, hospitality and entertainment options, it's a newly developed Island by Meraas Group. The famous Ain Dubai, the largest & tallest observation wheel in the world, offering unrivalled views of where the Arabian Gulf meets Dubai's breath-taking skyline is Bluewaters' unique centerpiece and a major attraction.
The island is also home to Caesar's Palace Dubai, a glamorous resort which presents epic dining and awe-inspiring entertainment to indulgent amenities and legendary services.
Neoalpha global is especially proud to have been chosen to produce the lighting design of Ain Dubai Plaza Bluewaters and won the Lighting Project of The Year.
Ain Dubai Plaza lighting design represents the apogee of the vibrant lifestyle destination, complimenting the fun and colorful lighting principles of the Bluewaters retail strip, the plaza lighting comprises traditional architectural landscape lighting principles as well as dynamic lighting elements.
Speaking about this unique urban getaway, Alessandro Ayanian, Managing Director of neoalpha global, said "we are pleased to be part of such an important and successful project, Ain Dubai Plaza Bluewaters Island is among the UAE's outstanding architectural lighting projects and it is our honor to lit this spectacular space up and have it in our portfolio."
Walking around Bluewaters Island at night is a completely different experience…
We invite you to visit our website neoalpha global to know more about us and our projects.
Email: info@neoalphaglobal.com