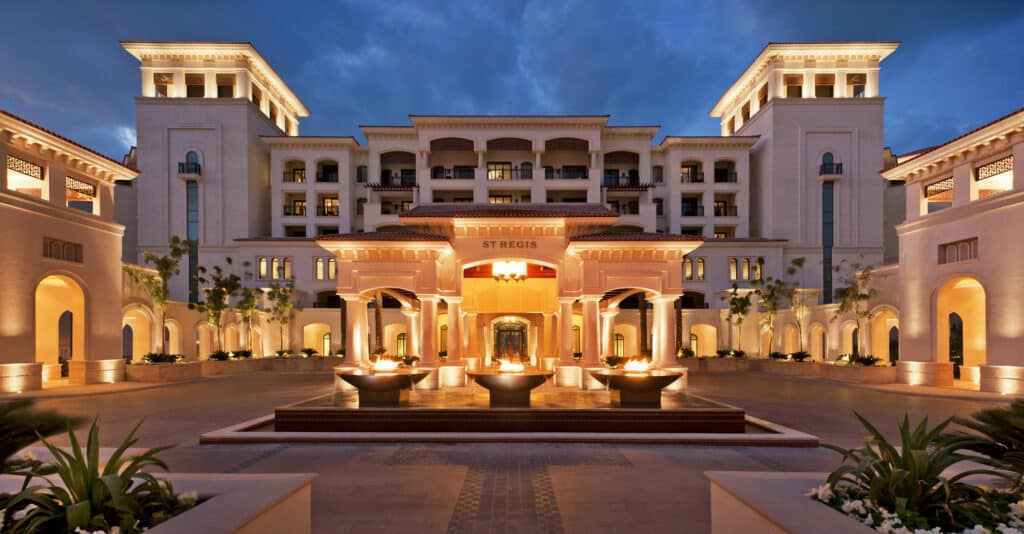 Experience a Royal Celebration at Saadiyat Cultural District ! Your ultimate luxury escape.
Mesmerising Mediterranean architecture meets stylish contemporary interiors in this one-of-a-kind destination overlooking the dazzling Arabian Gulf, The St. Regis Saadiyat Island Resort, Abu Dhabi, a 5-star luxury destination resort presents a peaceful getaway and fascinating wildlife just minutes away from downtown Abu Dhabi, it is a perfect match of serenity, excitement and comfort.
The St. Regis Saadiyat Island Resort is nestled in the heart of what is destined to become one of the most sought-after leisure destinations in the world.
Located in a private estate of a pristine natural island, this paradise island resort welcomes local and global travelers to explore the beauties of the Arabian Gulf and city of Abu Dhabi.
Saadiyat Island has a wide selection of attractions and activities for culture lovers and families alike. With its unapparelled location, exceptional venues, beachfront accommodation, indoor & outdoor pools, gourmet dining spots, sports facilities and an inspiring spa, St. Regis became one of the most iconic, relaxing and romantic destinations in Abu Dhabi.
We at neoalpha global are delighted to create the amazing lighting design for this beautiful resort, the scope of the work includes Master Planning, External Landscape, External Façade and Interior Spaces.
For more information visit The St. Regis Saadiyat Island Resort
We invite you to visit our website neoalpha global to know more about us and our projects.
Email: info@neoalphaglobal.com