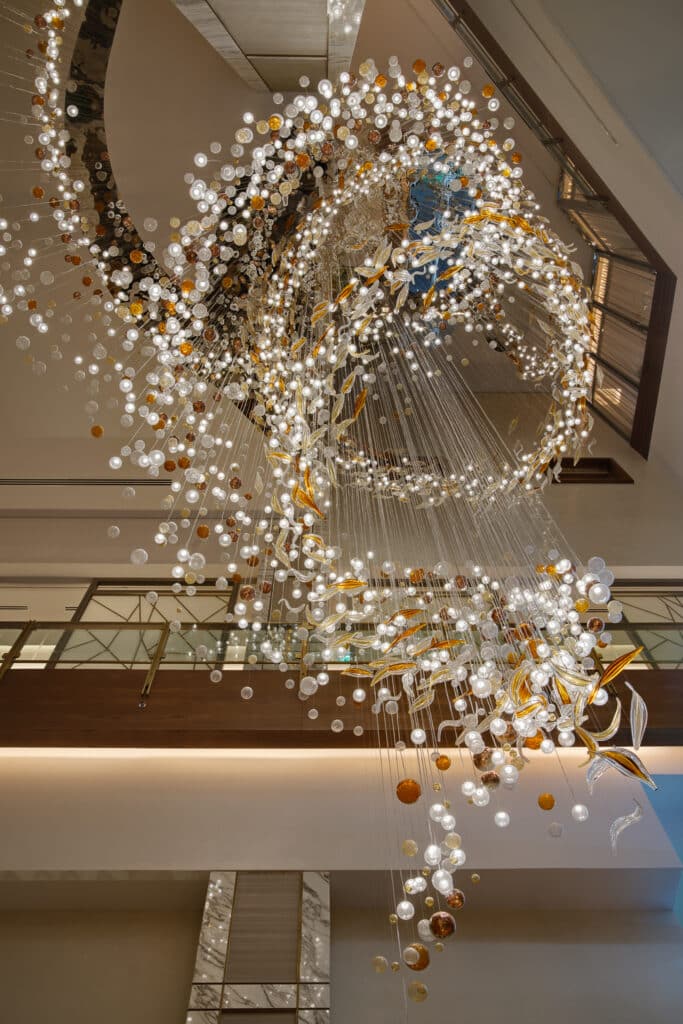 It's their story they are proud of.
Grand Plaza Movenpick Media City located in the heart of Dubai Media City – a vibrant business district. A 5-star hotel is perfect for both business and leisure travelers, inspired by Middle-Easter culture offers breath-taking views of the Palm Jumeirah and Emirates Golf Club.
It is an all-inclusive experience in Dubai from deliciously fresh cuisine to Swiss dishes you have never tasted before, sunny pool days to indulgent spa time, energizing workouts to immersive culture experiences, memorable meetings & sparkling celebration.
Grand Plaza main chandelier which dubbed as in the Swoop was a joint collaboration between DSGN, neoalpha global* and Lasvit. The glass sculpture is inspired by the fast, focused flight of birds, and the hotel itself.
The Mövenpick brand has a seagull in its logo. The design managed to capture the essence of the birds' flight over a sea shore into a glass sculpture. Hence its name in the Swoop. In the Swoop aims to express the mood of dawn when a flock of birds flies up to the sky within the whirl of sand on the sea shore accompanied by sun ray reflection. The installation consists of 3,544 hand-made glass pieces overall.
neoalpha global is thrilled to carry out the conceptualization, design development and site supervision of the overall FOH architectural lighting. The overall design scope included lighting design for the external landscape, external facade and interior spaces.
For more information visit Grand Plaza Mövenpick
Email: info@neoalphaglobal.com